Roasted Delicata Squash and Burrata Appetizer
Fall is in the air and it has us craving all of the delicious crisp weather comfort foods! Like this easy yet impressive roasted squash and burrata appetizer perfect for your next gathering. While not as well known as butternut squash delicata offers a rich buttery semi-sweet flavor and ease of cooking with its edible skin. And burrata might look like mozzarella but has its own unique creaminess and buttery milky flavor.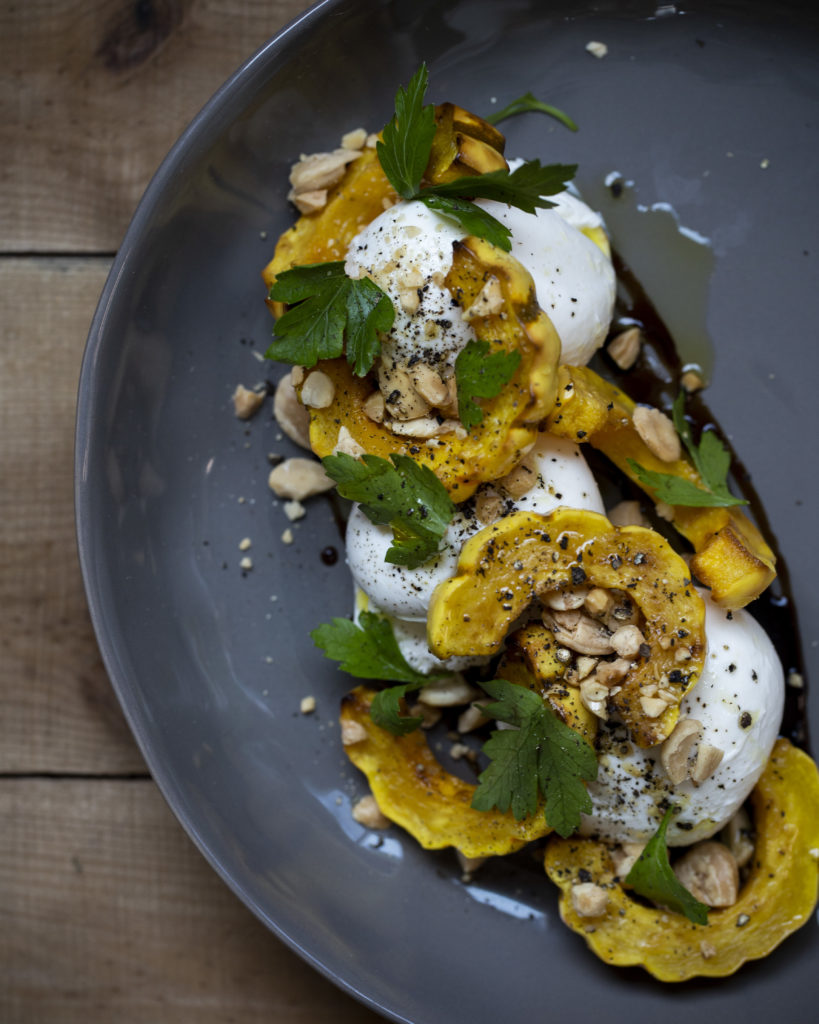 Roasted Delicata Squash and Burrata Recipe
Serves 4
Ingredients
1 delicata squash cut in half lengthwise deseeded and cut into ½ in slices
1 teaspoon olive oil
¼ teaspoon salt (more or less to taste)
3 2oz. balls of burrata
olive oil, balsamic reduction and fresh cracked pepper and flakey sea salt for finishing
Fresh Italian parsley torn into bite size chunks
Marcona almonds crushed
optional crackers or bread to serve on the side.
Instructions
Preheat oven to 425 degrees. Toss the cleaned and sliced delicata in olive oil until fully coated. Place on baking sheet in a single layer and sprinkle with salt.
Place in pre-heated oven and roast for 10 minuets. Flip each slice over and roast for another 5-10 minutes or until golden brown crispy on the outside and tender on the inside.
Drizzle your serving plate with balsamic reduction and place burrata on top. Place the roasted delicata on and around the burrata.
Finish with a drizzle of olive oil, fresh ground pepper, flakey sea salt and sprinkle with fresh parsley leaves and Marcona almonds. Serve immediately and enjoy!