Let us help you make your Thanksgiving both simple and delicious!
Uncooked Turkey Orders:
Now accepting Thanksgiving turkey orders through Friday November 19th. Call, email* or visit our meat departments to reserve a turkey. We have 3 fresh, quality options available. We will be taking orders daily until 5PM. Quantities are limited – order right away for best size availability!
*Include your preferred brand and size as well as pick up date and contact phone # in your email. Your turkey order is not reserved until you receive a confirmation email or call. Calling or visiting in person will reserve your turkey faster.
Ken's Market (206) 784-3470
or email orders.kensmarket@gmail.com
Marketime Foods (206) 632-8808
or email meat.marketime@gmail.com
Prepared Offerings
We will have an abundance of our fresh homemade sides and cooked turkey breasts and hindquarters ready to re-heat and enjoy! Our Thanksgiving line-up will be available in our delis starting Monday Nov. 22nd through Wednesday Nov. 24th. For the best availability shop early. Find our Thanksgiving menu and serving suggestions below.
If you are serving 12+ People reserve prepared offerings by emailing orders.kensmarket@gmail.com by Friday November 19th. Let us know the items and quantity of each as well as store and pick up date. You will receive an email confirming your order.
Thanksgiving Flyer
Heating Instructions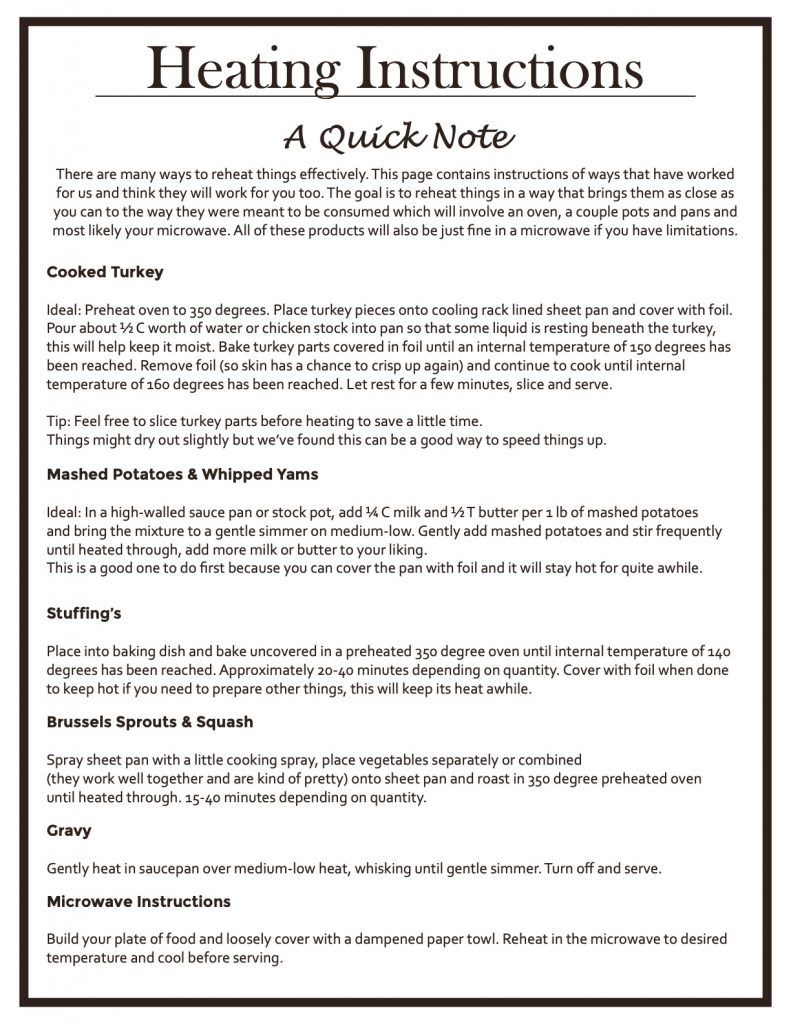 Our Thanksgiving Program
Our kitchen is working day and night this week to keep our stock fresh and full throughout the week but given the nature of making food from scratch, there may be some flexibility required in order to fulfill your needs by the time Thanksgiving is here. If we happen to run out of something, let us know and we can give you an immediate update on when to expect more. This is unlikely but possible.
This kind of food is sturdy, if it's going to be reheated on Thursday for Thanksgiving, it will be perfectly fine if picked up on the Monday before. The Wednesday before Thanksgiving is traditionally the busiest day of the year for grocery stores so bear that in mind.
Our offerings will be located in the deli department in our "grab and go" case as well as our service case. If you have any questions while shopping, please ask. We will do our best to ensure ALL of our customers are taken care of.
We stop making food on Wednesday so we cannot say what our supply will be like on Thanksgiving Day so make sure to shop earlier. The store closes at 3 PM on Thanksgiving Day.
Happy Thanksgiving and thank you for shopping at our stores! It's been a tough year for a lot of us, let us make it a little easier.